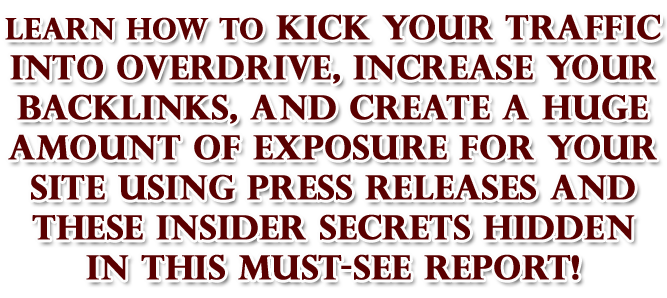 From The Desk of...
Eddie Quimby
RE:
Profiting With Press Releases!
Dear Friend,
Have you been finding it almost impossible to figure out how to get good, laser targeted traffic without spending a fortune?

Of course you have! Don't feel all by your lonesome. At some point every marketer has walked down that road - or should I say drug down that road?

If you've been feeling defeated by this traffic war and totally overwhelmed then I got news for you! Put your gloves back on because it's not over for you...

This is a new beginning for you and a second win!

Okay...so we know that you can plain out buy traffic. Getting great targeted traffic cost a ton of money though - killing your profits!

Even then you can't always guarantee that you're getting good quality traffic unless you know where to go to get it and if you are willing to pay huge amounts of cash for it.

It's no secret there are a lot of places claiming to give you herds of traffic that only deliver "crappy, junk traffic".

So, if you don't want to spend untold amounts of your hard earned money to get that much needed, "targeted" traffic and find the people who want what you have to offer then you got to have another plan, right?

I'm certain your next question is...

Believe it or not the answer is quite simple, and the answers to those questions are all inside this press release money-making guide!
What if you had the chance to...

Get gobs of targeted traffic

Boost your rankings on Google and Yahoo to #1

Start increasing your back links fast

Start building a list at the speed of lightening

Getting mega amounts of exposure
and it wouldn't cost you anything...Would You Take It?
Darn right you would! Who in the world wouldn't, right?
At this point you are probably thinking it's either hard as heck to do, or it's just too good to be true.
The truth is its not hard and it's true.
The strategy I have been using that has completely changed my business and its success is so simple and easy to do; even someone just getting started could do it.
All the credit lies in press releases and I am going to teach you how. But first let me explain why press releases are so powerful.

But, there's more than just putting out a press release...
You must to know how to effectively write one and how to profit with it.
You have to know how to not "sell" in your press release, just inform and give the people the information you have.
You have to know what to do with them once you've mastered the art of writing a compelling press release, and a laundry list of other things.
Your chance to have all of that information is available to you today!
Introducing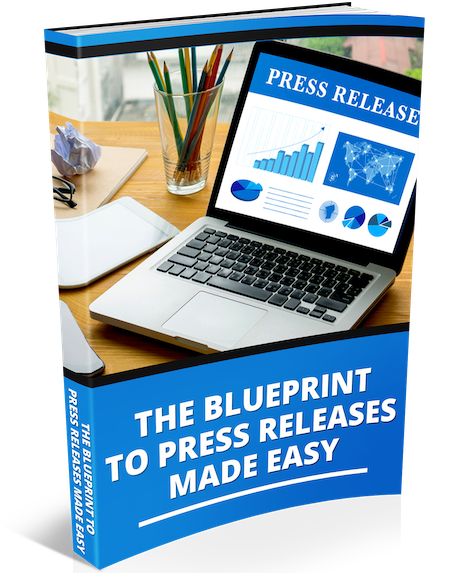 The Blueprint to Press Releases Made Easy
It doesn't matter if you newbie at writing press releases or if you're a seasoned writer, this helpful tool I've created can give you a wealth of ideas and strategies to put into action and produce steady chunks of cash each time you put out a press release.

If you are tired of not getting the traffic you need, not having a list, and not getting the exposure you and your business needs, then this easy-to-understand report is just what you need to jump-start a positive chain reaction to an impressive income generator.

Here is just a SOME of what is covered in this exclusive report...



Learn the right way to format your press release to appeal to your readers and potential journalists!



Don't know the first thing to creating a press release? Find out how you can get a press release written for you!



Find out the pro's and con's to using free press release distribution services!



Learn helpful tips and advice to creating, distributing, and how to reach out to your audience!



Want to know how traffic and SEO make an impact on your press release? Find it all out here!



Not sure about what type of headline to use? I've got the 4-1-1 on everything you need to know about creating a powerful headline that will make readers keep reading!



Not sure whether to go with a paid for press release distributing service or a free one... I've got the differences and benefits between the two that will help you decide!



Find out what people are looking for when it comes to the formatting of your press release!



Learn how keywords don't just apply to articles but to press releases for a dynamic impact on search engines and the placement of your press release!



Gain an example of one of the most high converting formatted press release to use as a template to create your very own press release!



So, what is a press release actually? I lay it all out for you in this easy to follow guide!



Find out the tools that the pro's use to finding the right keywords for your press release!



Discover how you can save money by combining your press release distribution fees and the actual creation of your press release!



Find out why the best press releases talk to you as a friend and not as a sales promotion and how it can effect your marketing efforts!



And that's just a portion of what all you will learn in this incredibly jammed packed press release guide!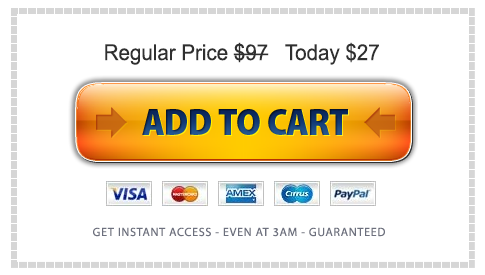 Now, before you go thinking that I am about to ask an outrageous price for this report, let me give you something to think about.
If you knew that you could make a small investment that would actually create a realistic progression for your business, and increase your income, and start producing results you have been after all along...wouldn't you invest in it?
I am assuming that you would - after all you got to spend a little to make a lot.
This information inside this report is far beyond more valuable than the cost of it. With the strategies and methods I am giving you there's no way you couldn't make back your money 100 times over.
In order for your business to excel, you need to know these things - bottom line.
And, even though this great guide teaches you how to also find people to write press releases for you, it also teaches you how to do it yourself...that in itself is worth the investment.
Many people charge anywhere from $50-$100 for a good quality press release.
So, at this point its not hard to do the math and see the value and bargain you are getting.
I am well aware of it's value and bargain...having said all that I could easily charge $47-$97 for this report and have orders coming in all day long.
However, I want to give you something that has the power to help you and your business so you can get ahead of your troubles and competition, without breaking the bank.
So, for a limited time, and ONLY A LIMITED TIME, I am letting you commit highway robbery and walk away with this must-have report for a measly...
$27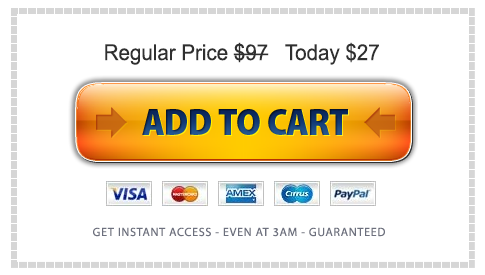 There are a ton of people who have had success using these same methods to create compelling and attention - grabbing press releases just like I am offering to teach you...including myself.
On the other hand, I know making split second decisions can sometimes leave you feeling confused and indecisive.
So I decided to ease your concern and take away all the worry and risk.
My confidence is so high in this product that if for any reason whatsoever if you feel like this has not made an impact on the way you write press releases and you don't feel like you are reaping the many benefits that I teach you about press releases...
I will flat out give you your money back!
And this isn't a guarantee for 30 days...I'm giving you a
FULL 60 Day Money Back Guarantee
! Every last cent!
How can you say no to that?
So not only do you get this report; you get it at a slashed price...with an iron clad guarantee! What a deal, eh?
We Have So Much Confidence... "We'll Give You a FULL 60 Day Money Back Guarantee"
Ok, here's the deal - we have nothing to hide - we KNOW our stuff WORKS - heck, we've been using it for years..

Full 60 Day (For Any Reason) Money-Back Guarantee

You'll never even have to give us a REASON - just ask for a refund and it's done.

So you have TWO lines of defenses (in case you feel uncomfortable asking US for a refund - just ask your payment company directly!)

Now this is COMPLETELY RISK-FREE for you.

Why are we doing this? Because we're 100% CONFIDENT that this system will work wonders for you - if we don't deserve your money!


Ask yourself this...where do you see or plan to see your business one year from now?
Do you think doing the same thing as you are now is going to have much of an impact on your current state?
Do you have doubts even still now about if this report will help you? I am sure you have heard it a thousand times as I have that doubt is self-sabotage at its best.
Stop doubting and start believing if you want to achieve your goals starting right now. Either this state you are in is going to own you...or you are going to own it...it's just that simple.
These little-known secrets hold the key to a breakthrough for you and your business, giving you peace of mind, a sense of accomplishment, and over all a drastic change in your current income.
You don't want to wait forever though!
I don't know how much longer this will be available and especially at this crazy low price, so don't fool around and let everyone else get this information leaving you out in the cold and all alone while everyone else gets the pie.
Make the right choice today and grab your copy of The Blueprint to Press Releases Made Easy before they are ALL gone!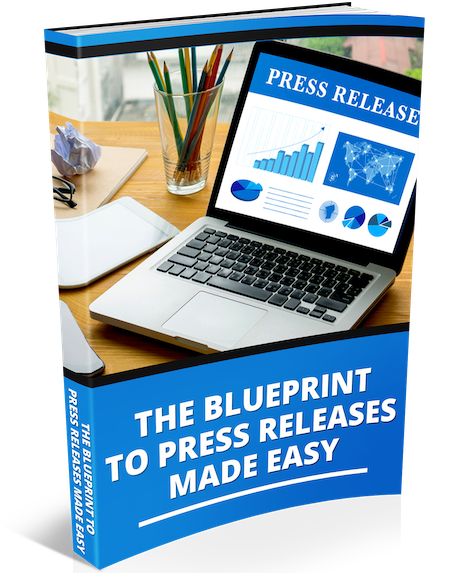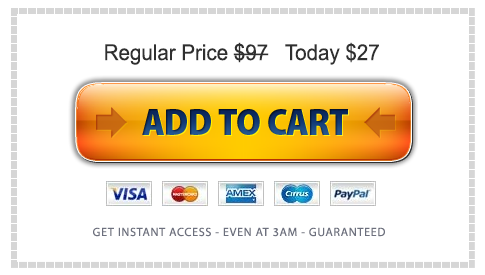 To Your Success!
Eddie Quimby
P.S. Remember you get an IRON CLAD 60 Day Money Back Guarantee!
P.P.S. Don't wait! This offer will not last forever and it will sell out FAST!